Posted by BC on 11th Oct 2017
ACE loves a challenge and, when Mike C. inquired into tuning options for his fire-breathing 2008 350Z, we recognized an opportunity to provide a tuning solution unlike that of any car before it.
With a fully built turbo engine and more power than any sane person needs for a street car – thankfully nobody among us is sane – Mike needed the ability to merge multiple challenging control systems, some with no US support available, together to work as one.

Project

The extent of the challenge was quickly recognized. The factory ECU still controlled all of the major functions including the electronic throttle and variable cam timing, while a secondary EFI solution consisting of multiple boxes was used for various simple fueling functions and ignition control.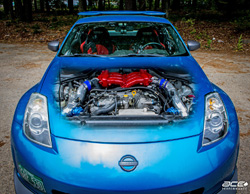 It was not clear which systems controlled each of the many functions required for the car to operate properly. To maximize the extreme hardware potential of the vehicle, a comprehensive EFI solution using state of the art electronics was required. This consisted of an Emtron KV8 ECU as the main brain while still retaining the factory ECU, albeit in a drastically different capacity.

Most "parallel" EFI installations rely heavily on the factory ECU to control complicated functions that are not supported by most of today's limited aftermarket systems. In this case, however, the factory ECU was configured strictly to act as a hardware gateway to keep the factory CAN Bus systems happy.

Have you ever been in a car with a dashboard filled with the harsh glow of warning lights? Not this one. The wiring solution for Mike's 350Z patches directly into the original wiring harness and ensures that both the factory and new ECU remain connected along with the addition of high temperature braided flying leads to attach the new and necessary components and sensors.

The ACE tuning solution now uses the factory ECU for functions unrelated to engine control. The opposite of most parallel ECU installs, the power supply, crank trigger for engine speed and other essential functions were spliced back to the factory ECU. Everything engine-related including the dual electric throttles, four-cam VVT, knock control and fuel and ignition is now fully controlled by the new Emtron ECU.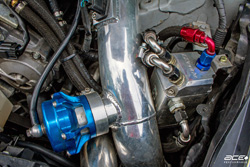 **Tuner's note: This is currently the simplest way to solve any complicated CAN integration project. It makes no sense to spend hundreds of hours reversing CAN networking to replicate or replace hardware that you want removed when the factory ECU can be retained in minimalistic fashion. – N. P.

Click here for a more comprehensive list of Emtron ECU functions.

With the Emtron and Factory ECU integrated, the result is a perfect tuning solution for such a complex and capable car. Most importantly, this is a complete package that operates as well as an OEM setup. The vehicle starts, idles and can be driven cold with varying fuel types, and has perfect drivability for both spirited driving and more relaxed partial-throttle cruising.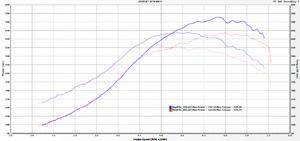 Shortly after completing the project, Mike took the vehicle on a long road rally event that culminated in open laps at a newly opened New Hampshire track. The event occurred on one of the hottest days of the summer and the car performed flawlessly under even the most strenuous of conditions.
Videos
---
---
---
---