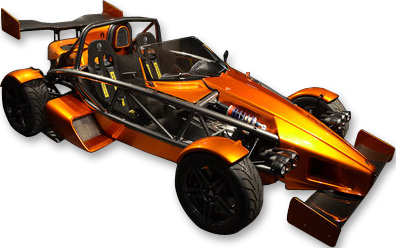 The substantial experience, dating back to 2008 as the exclusive North American manufacturer of the Atom, has given TMI many ideas of how to extract additional performance from this unique, lightweight ultra-performance car.
Future Atom owners will still have the ability to select their option choices from the tried and tested standard Ariel Atom 3, however for 2015 a new Atom 3S package brings together some of the best new options to the Atom 3, debuting never-before-seen features new to the Ariel Atom 3 platform.
TMI AutoTech has designed a fully intercooled turbo charging system that mates well with the Honda 2.4L engine, with a major focus on performance and reliability. Owners will be happy to know that both goals have been met while pushing engine ouput to 365HP.

Additional cooling radiators forthe turbo are neatly packaged in aerodynamic twin side pods which are unique to the Atom 3S in North America.
A brand new cockpit-adjustable traction control system allows for improved acceleration and stability over a wide variety of surface conditions. A simple dash mounted dial manages five adjustment settings of allowable wheel spin.
Braking and handling are equally matched to this newfound power. The Atom 3S comes standard with Alcon 4-Piston brake calipers on all corners that utilize 2-piece floating brake discs. The 2-piece floating discs will allow for smooth, and firm brake pedal feel even during the toughest track session.
The Atoms well known pushrod suspension system keeps the 3S glued to the road with the assistance of JRi adjustable dampers featuring 2 piece spring layout. These dampers have been valved, and extensively tested for this vehicle providing an ample adjustment range for both road & track.
All Atom 3S will feature a full glass windscreen to allow for a clear view while seated in a race-inspired composite seat. A full LCD display allows for easy viewing of data such as speed, RPM, gear position, as well as water temperature and fuel level. Each Ariel Atom 3, including the Atom 3S, is built to order by TMI AutoTech using a combination of CNC machining and fabrication as well as skilled handcraftsmanship. This approach to supercar building allows clients to see their vehicle come to life in addition to the opportunity to choose from a few options to make the car their own.
Clients can choose from three different transmission options - standard, close ratio, or a new Sadev 6-speed sequential race inspired gearbox. The Sadev options allows for ultra-quick shifting through steering column mounted paddles which provides for optimal track performance. Upshifts can be accomplished at full throttle to maximize outright performance.
---